PAST EVENTS
---
My Mother the Airplane
In conjunction with Santa Fe artist & poet Colleen Carias's exhibition My Mother the Airplane (featuring photographs and poetry from her travels) I've published 15 limited edition letterpress broadsides and 20 sets of (3) poetry chapbooks featuring her writing. The broadsides and chapbooks will be available at the gallery throughout the exhibition, and later at the Broken Cloud Press website.
My Mother the Airplane—Colleen Carias
Catherine Ferguson Gallery
6 La Vega, Galisteo NM
October 7—28
Saturdays & Sundays 1-4pm or by appointment.
Opening Reception: Sunday, October 8th at 2pm.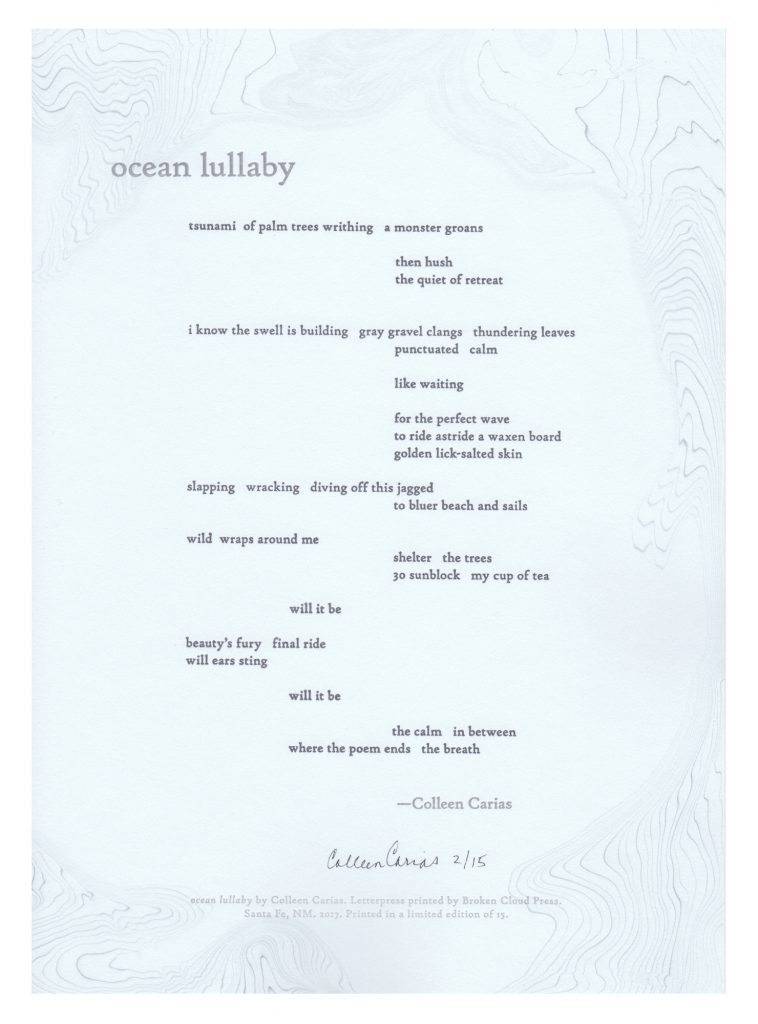 Ocean Lullaby broadsides are letterpress printed from photopolymer plates on stonehenge paper (pale blue). Each broadside features a unique suminagashi print, making this a variable edition. Broadsides are signed and numbered by the poet.
Chapbooks are hand-bound and pamphlet-stitched. Each set includes three titles: My Mother the Airplane, An Other Time, and Somewhere Else. Books are held by a band and include a contents insert. Please contact me for more information.
---
Eldorado Studio Tour
Open Studios: Saturday & Sunday May 20th & 21st, 2017 • 10am—5pm
Artist Reception: Friday May 19th • 5—7pm at the Max Coll Center (16 Avenida Torreon)
Preview Gallery: May 20th & 21st, 2017 • 9am—5pm at the Max Coll Center (16 Avenida Torreon)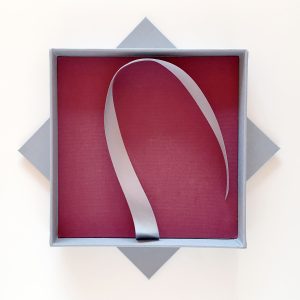 This year I will be participating in the Eldorado studio tour (Eldorado // Santa Fe). This is the largest studio tour in the state of New Mexico and features over 100 artists. I'll be in studio 29. Find a map and brochure here.
---
SPREAD Santa Fe
April 21st, 2017 • Doors open at 6:45pm
Santa Fe Farmer's Market
Tickets available Thursday, April 20th at SITE Santa Fe. Learn more about purchasing tickets here.
I'm incredibly grateful and excited to be one of 8 finalists for SPREAD — a community dinner held by SITE Santa Fe that awards a micro grant to a New Mexico artist. Come. Eat. Vote. This is going to be a great time!
---
BUILT
Book Art & Architecture
April 7—May 27, 2017
23 Sandy Gallery 623 NE 23rd Ave • Portland, Oregon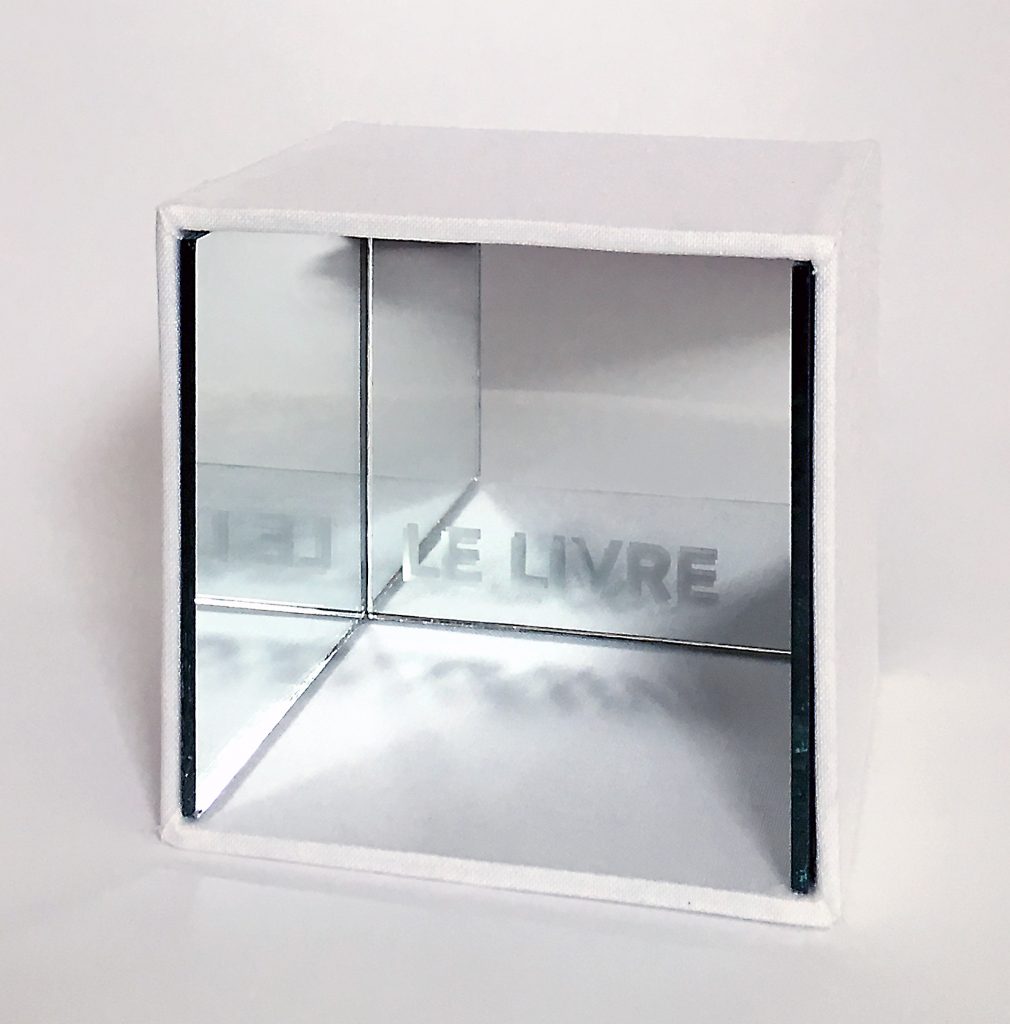 BUILT is an international juried exhibition of book and paper art examining the relationship between contemporary book art practices and architecture, engineering, landscape and construction as form, function and structure. Book artists took this opportunity to re-image the ways we as designers, of either books or buildings can inhabit and shape the world around us. Our disciplines have a natural synergy. After all, books and buildings are both kinetic, sequential, structural and time based. Taken a step further, book art can provide a framework for topics like urbanism, town planning, buildings and space. BUILT examines the relationship between the built and the book.
I am happy to be included in this exhibition with Le Livre, a three-dimensional book object made in tribute to Stéphane Mallarmé's conceived but never completed magnum opus by the same name. Mallarmé envisioned this work as text-architecture: a collection of fragments, arrangeable in a multitude of combinations to build an infinite number of poems. Learn more about this work here.
---
Mutterfarbe // Mothercolor
Thursday September 8th, 2016 • 6—8pm
23 Sandy Gallery 623 NE 23rd Ave • Portland, Oregon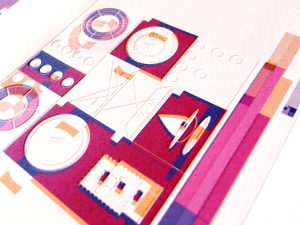 Please join us at the opening reception for Mutterfarbe — a new work of experimental text + visual translations and poems by Brandi Katherine Herrera — with the release of the limited edition artist book by Broken Cloud Press.
We invite you to visit 23 Sandy Gallery any time between 6-8 pm for an immersive experience in the origins and language of color, with a glimpse inside Mutterfarbe's poems + process through a variety of media, including original video + sound installations by Andrew Foster Glei and Brandi Katherine Herrera.
Hand-stitched chapbooks featuring poems from Mutterfarbe's first section (Natürlicher) will also be available for purchase by Broken Cloud Press.
DRINKS PROVIDED! Post-reception gathering at Church bar (2600 NE Sandy Blvd).
XOX
Brandi + Erin + Andrew
ABOUT MUTTERFARBE
Mutterfarbe is a work of experimental text + visual translations and poems by Brandi Katherine Herrera. Using Johann Wolfgang von Goethe's seminal work, Zur Farbenlehre (Theory of Colors, 1810) as a primary source, Herrera translated sections of the text from German to English for the first time since Charles Eastlake's 1840 edition. Here, the language of color is transformed in order to provide fresh perspective on an archaic text, and allow Goethe's words to reimagine themselves within a more contemporary conversation.
This limited edition artist book was made by Broken Cloud Press (Santa Fe, NM), the imprint of artist Erin Mickelson. Each of the 16 books in the ltd. edition is comprised of separately bound sections (measuring approximately 5.5 x 5.5 inches each) enclosed in an archival box:
• The first section—Natürlicher (vis-à-vis land, animal)—is comprised of color swatches sourced from the author's environment with accompanying poems, and includes loose pages in a folio.
• The second section—Ursprünglicher (origins, experiments)—is comprised of erasure poems & illustrations, and includes drum leaf binding and blind impressions.
• The third section—Farbe Gespräch (speaking of color)—is an imagined text convo with Johann Wolfgang von Goethe using contemporary language & technology, while watching Jodorowsky's iconic surrealist film, The Holy Mountain. This section includes leporello binding and pop-up elements.
• The book's back matter (including translator's note & color source photos, scans of the original erasures, and the translation) is bound in three pamphlet stitched books.
Archival pigment printing is used throughout. Each book includes a unique lenticular print (bound into the book).
PRICING + ORDERING INQUIRIES: Mutterfarbe will be available by special order. Please contact Erin for more information.
ABOUT BRANDI
brandikatherineherrera.com/poetics
Brandi Katherine Herrera is a Portland, Ore. based poet, translator and multidisciplinary artist, whose work in poetic text, film, and sound explores the poetics of space through experimentation and collaboration with other artists, genres, texts, and forms. Her work has been shown in a number of public spaces, including performances for Poetry Press Week and Pure Surface, and has been featured in The Volta, Octopus Magazine, The Common, Poor Claudia, Word/For Word, and Thru Magazine, among others. Mutterfarbe, a book of experimental text + visual translations and poems, is her first full length publication (Broken Cloud Press, 2016).
ABOUT ERIN
brokencloudpress.com/portfolio
Erin Mickelson's work through Broken Cloud Press includes bookbinding, unique & edition letterpress printing, book layout & design, and artist books. She earned her BFA with a concentration in book arts at Oregon College of Art & Craft, and she also holds a degree in graphic design. Erin includes both traditional processes and new media in her work, which is held in various private and public collections, including Baylor University, Minneapolis College of Art & Design, and the Spencer Research Library.
ABOUT ANDREW
Andrew Foster Glei is a multidisciplinary artist, moving between sculpture, video, print, sound and poetry. His work explores the world of the unconscious, and the interconnected relationships between death, sex, domesticity and violence in modern American culture. He has attended Cornish College of the Arts and Portland State University, from which he holds a Bachelor's of Fine Arts.
SaveSave
SaveSave
SaveSave
SaveSave