---
For the past year, I've been living in the high desert of New Mexico. This is a remote place. It's a place where land and sky unfurl, tumbling into the distance, rising and falling in dark and jagged patterns. The earth is barren, desolate, utterly exposed to the relentless wind, the scorching sun, the swirling snow. The roads (where there are roads) are long and dusty. At night, the darkness is complete. It is difficult to grow here. To grow in such a harsh place, you really need to work for it. To survive in this isolation, you need to be strong enough to endure it.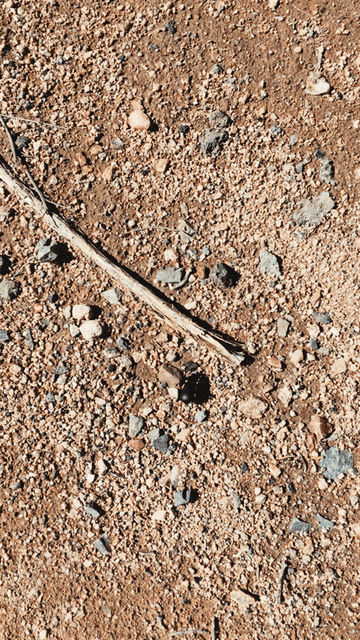 As a bookbinder and an independent maker, I dedicate the majority of my work life to creating beautiful objects. Every day, I attempt to gain more precision in my craft. Sometimes working independently is lonely. (Often times it's lonely.) The rest of my work life is dedicated to art, to creating beautiful ideas. This is a difficult and dangerous endeavor. I want to create work that makes you think, that makes you talk, but for the most part, I'm terrified to lay my ideas bare. What if you pick at them? What if you tear them apart?
This is my biggest struggle in my creative life. And in my efforts to protect myself and my work from criticism, I'm afraid I've become a little… unreachable. Distant. A little too dry and sharp around the edges. I shift my focus to the more academic side of the topics I explore in an effort to keep it away from the emotional side of things. And though I do find it important and fulfilling to address academic issues, I wish I weren't so damn afraid to be more vulnerable in my art.
Last weekend I traveled back to Portland, Oregon, to participate in XOXO. For the past three years, this event, a conference and festival for independent artists and makers using technology to make and/or distribute their work, has been one of the most inspiring, hopeful, and impactful gatherings I've had the pleasure of attending. This year, the theme of vulnerability came up again and again by several speakers and presenters. But to me, it was discussed most profoundly by Sammus (Enongo Lumumba-Kasongo)—rap artist, producer, and PhD student at Cornell University.
Sammus discussed the different elements of control in her performance: physiological mastery, mental control, and emotional control. When addressing emotional control, she specified that it is important to be aware of the difference between suppressing emotion and accepting vulnerability. She acknowledged that it is sometimes necessary to protect yourself emotionally, but emphasized that suppressing emotion does not allow for creative growth. And that feeling emotion, accepting vulnerability, does not signify weakness. Among the whirlwind of raw, honest, and inspiring discussions that occurred over the weekend, that sentiment has remained solidly in the forefront of my mind.
So now I've returned to the desert. I'm no longer closely surrounded by hundreds of inspiring people who care about many of the same things I do. The weekend feels almost like a fever dream. The emotion I felt so intensely, sparked by the brutal honesty of many of the talks and the sense of community among the attendees, is still there; I still feel it acutely. I hope I continue to feel it. And I hope I will find the strength to accept my own emotional vulnerability. In terms of creative work, I think it might be the only way to survive.